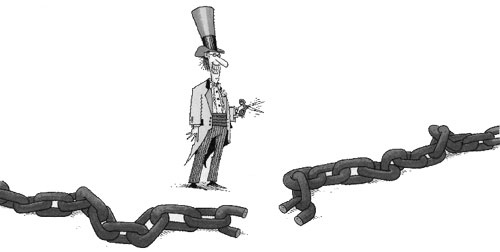 You can view John's limited number of New Yorker cartoons as well those by many other cartoonists here at cartoonbank.com.
Cartoonists who blog include magazine cartoonist Mike Lynch, great caricaturist and MAD contributor Tom Richmond and the wonderful and uniquely MAD Tom Bunk.
As a proud member of the Usual Gang of Idiots at Mad Magazine, John invites you to visit the Mad website.
Interested in all things MAD Magazine? Well then, go visit Madtrash and Collectmad.
He's not just MAD's most ostracized writer anymore. Nowadays Mike Snider expounds on whatever interests him on his blog.
Some printable blasts from the past can be found here.
John's greeting cards on delicious buttercream frosted cookies: Edibles, Inc.
Here's The National Cartoonists Society's site.
John produces greeting cards for the fine folks at Recycled Paper Greetings.
Check out John's pal Dave Carpenter's cartoons.
Caricaturist, illustrator and friend Jeanne Benas shows her wares.
The excellent work of friend, fellow Mad contributor and Paris correspondent Rick Tulka can be found at ricktulka.com
View the latest work by the artist formerly known as Sarge...gchaymes.com.
There's much to see and hear from the talented Michael Eck
Knowing just what's going on in the Capital City of New York requires a trip to Nippertown.
Musician (and my webmaster) Sara Ayers